2019 Friends of the Poor Walk/Run
Join the Society of St. Vincent de Paul at Holy Family Catholic Church on Saturday, November 9, 2019 for our conference's annual Friends of the Poor 5K Walk/Run at Bill Frederick Park at Turkey Lake. The registration fee is only a $25 donation with all the proceeds going to help the St. Vincent de Paul Food Pantry located at Holy Family Catholic Church.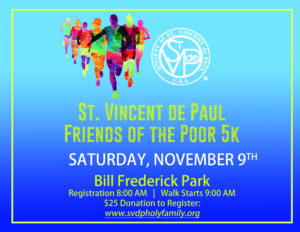 Participants may register starting at 8am with the race beginning at 9am. Each registrant will receive an event t-shirt and goody bag. Following the race, stick around for some great food from our vendors, silent auction items and raffle items. We encourage all Corporate Teams to sign up and wear their company t-shirts. This is a fun family event that you won't want to miss.
.
Our Sponsors
Sign up for the gold or silver package, and place your logo and a link to your business right here next to all of the event information. What a great way to get noticed while helping support a great cause!
Want to go that extra mile? Consider becoming a sponsor for our event. We have three great options shown here that will not only help feed those in our community, but will also gain visibility to others at our event, at our parish and our community. This is a great option for businesses to advertise their products and services, for company team building exercises and for families or groups like yours!
Interested but not sure doing a sponsorship is right for you? Check out the details of each sponsorship below. For questions or to learn more, please contact us, and we will be more than happy to discuss them with you.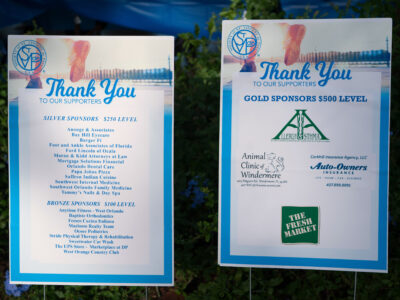 Bronze Sponsor
Deadline October 28, 2019
Display logo on Walk signage

Recognition on Social Media

Recognition in Holy Family Church Bulletin – Deadline September 1, 2019

Coupon/ad (business card size) given to walkers

6' Table at the Walk to promote your business

Up to 10 Free Walk Participants
Silver Sponsor
Display logo on Walk signage

Recognition on Social Media

Recognition in Holy Family Church Bulletin – Deadline September 1, 2019

Coupon/ad (business card size) given to walkers

6' Table at the Walk to promote your business

Up to 10 Free Walk Participants
Gold Sponsor
Display logo on Walk signage

Recognition on Social Media

Recognition in Holy Family Church Bulletin – Deadline September 1, 2019

Coupon/ad (business card size) given to walkers

6' Table at the Walk to promote your business

Up to 10 Free Walk Participants
Summary of the Event
Date: Saturday, November 9, 2019
Where: Bill Frederick Park at Turkey Lake
3401 S. Hiawassee Road
Orlando, FL 32835
Cost: $25 Donation per Person
Includes: Walk/Run Registration, T-shirt and Goody Bag
Registration Open: 8am
Run/Walk Begins: 9am
Benefits: Food Pantry for St. Vincent de Paul at Holy Family Catholic Church
Sponsorships: Gold, Silver and Bronze Options